Wonderland
January 23 @ 8:00 pm

-

January 24 @ 2:00 am

$15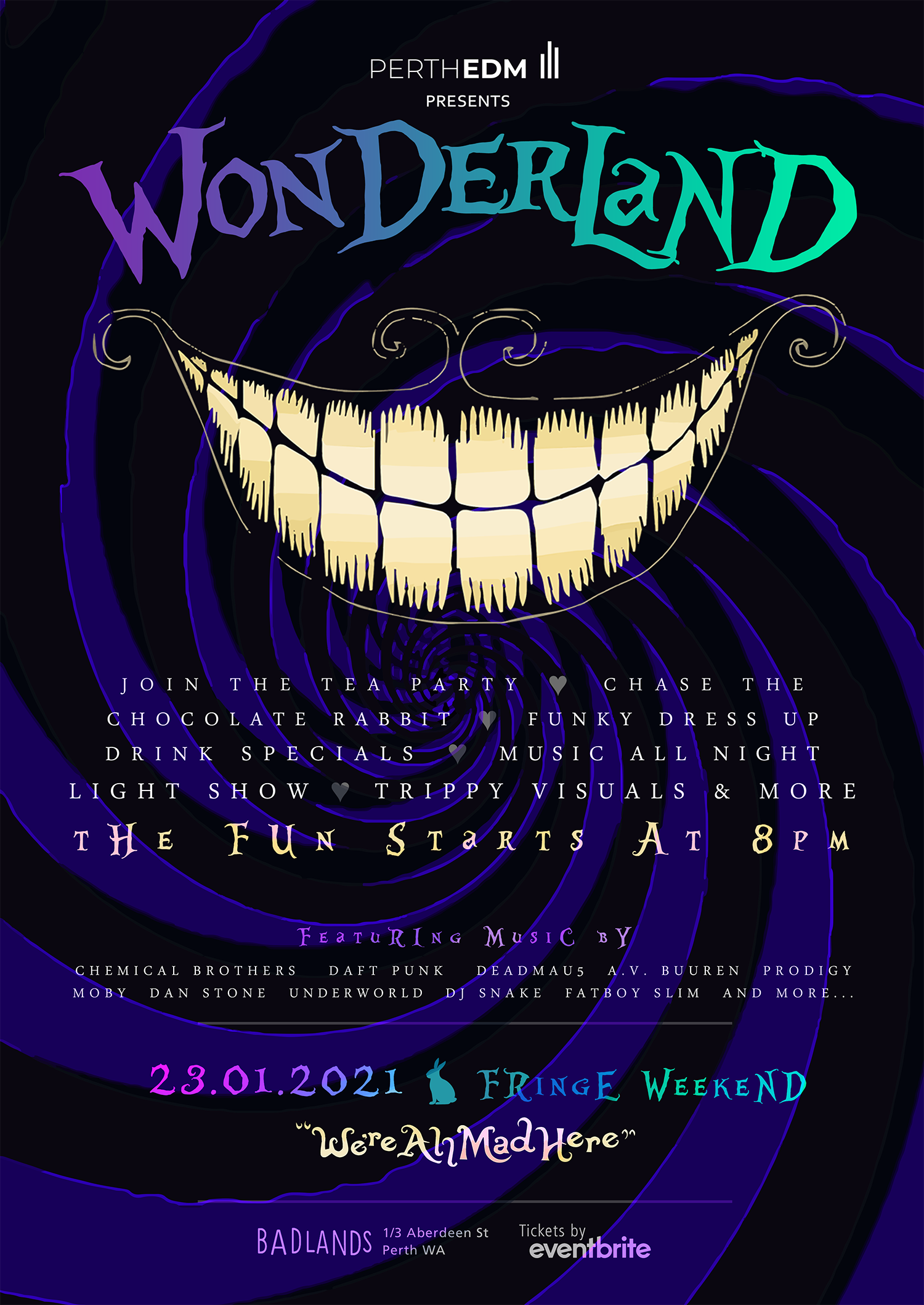 "Why, sometimes I've believed as many as six impossible things before breakfast." -Alice
Initially planned for April 2020, delayed due to COVID, we are back, and are excited to take you down the rabbit hole on January 23rd, 2021 in an even bigger banging party.
A dark new twist inspired by the much loved classic tale by Lewis Carrol, take a journey down the rabbit hole and join the grand tea party where there'll be chocolate bunnies, drink specials, photo taking, Wonderland costumes and the chance to let go and dance to some classic, kick ass and slightly insane electronic hits all night long.
At 8pm, we'll enter another world of trippy visuals and lights, with a vibrant, unrelenting mix of extraordinary EDM, ranging from the Chemical Brothers to Malaa, from the golden age of EDM to cutting edge future house.
Dress to impress (the stranger the better), and enhance your costume with a mad hatter hat or a jumbo playing card.
Music? The March Hare Blueski will guide us down a path filled with melodic house (Deadmau5, Moby, Rufus), hard hitting classics (Chemical Brothers, Prodigy, Fatboy Slim, Underworld, Daft Punk), uplifting trance (Armin van Buuren, Dan Stone, Gareth Emery), future house (Malaa, Tchami) and every EDM genre and artist in between.
Due to COVID restrictions, there are limited spots, and at our last event we had a lot of people wanting to get in at the last minute but had to wait as the place was full. Get your tickets.
All happening Saturday the 23rd of January, 2021, smack dab in the middle of Fringe Weekend. Get into party-mode by adding a little fun in a world where anything is possible.
"You're entirely bonkers. But I'll tell you a secret. All the best people are." -Alice